Nearly every seat was occupied at Youth Services' Annual Gala & Dance Show at SIT on Saturday, April 27, with 106 guests witnessing local "celebrities" showcasing their dance skills and supporting a great cause! This was the second year that the much anticipated annual event showcased a twist on televisions' hit reality show, Dancing with the Stars.
Presented by Twombly Wealth Management, the festive evening of food and drink at SIT started with a silent auction auctioning art and crafts, gifts, and getaways from 95 local artisans and businesses which grossed $12,000 for the youth serving nonprofit.
Dinner was followed by the Can Windham County Dance? show featuring local "celebrity" dancers. None of the celebrities were novice dancers but all rehearsed numerous times to perfect their routines.
Richard and Margo Langlois, long-time line dance instructors shared their medley of 1950's/60's novelty dances. Car wash owner, Connie Burton and artist Matt Peake prepared a beautifully executed performance of The Lovers' Waltz. Attorney Andrew Marchev of Phillips, Dunn, Shriver & Carroll and Physical Therapy Assistant at BMH Melissa Kuralt danced a charged and flawless Salsa to "Despacito" by Luis Fonsi.
Architects Joseph Cincotta and Julie Lineburger performed a high octane and original swing dance to "I Gotta Feeling" by the Black Eyed Peas, while the audience clapped. Dr. Jesper Brickley and his wife, Cara Wolff performed a crowd pleasing Hustle, including lifts. Dance teachers Gershom Moore and Francesca Bourgault, owner of Windham Movement Apparel tapped out an elegant duet to "After Hours" by Qunicy Jones and his Orchestra. Internationally recognized ballroom dancers Justin Vasselli and Sophia Marx, amazed the crowd with their precision Cha cha to "Diras Que Estoy Loco" by Miguel Angel Munoz.  Closing the performance was Victoria Jaenson, participating courtesy of the Charlotte Ballet Co., with an choreographed original contemporary piece to the music "Maribel" by Oskar Schuster, to much applause.
Top prize for fundraising went to "celebrity" Dr. Jesper Brickley and his wife Cara Wolff, jewelry maker and Brattleboro shopkeeper, for raising the most donations to support Youth Services critical safety net for area young people. All together their sponsors contributed close to $5000 to Youth Services. In second place for fundraising was "celebrity" Melissa Kuralt and Andrew Marchev whose sponsorships totaled $1338; Margo and Richard Langlois who raised $1163; and Joseph Cincotta and Julie Lineberger who closely followed them by raising $1141. All together the eight sets of dancing partners raised $9505 on-and off-line from 67 donors from as far away as Nebraska.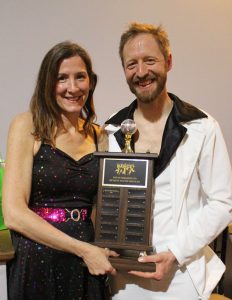 "We appreciated our presenting sponsor, Twombly Wealth Management, the great turnout from the community, the lovely venue SIT provided, and the dedication of the dancers and volunteers who made this a truly memorable event," stated Russell Bradbury Carlin. "Through their incredible support of Youth Services, it is clear that the community is committed to each young person realizing their full potential," he said.
Youth Services anticipates holding a third "Can Windham County Dance" event next spring and will be seeking a new line-up of local "celebrity" dancers in January, representing different genres of dance, towns, professions and most working intensively with dance instructors to prepare for their debut. Youth Services' Pacesetter Sponsors for 2019 are The Richards Group, GS Precision and Brattleboro Subaru. For more information call Youth Services at (802) 257-0361 or email info@youthservicesinc.org.