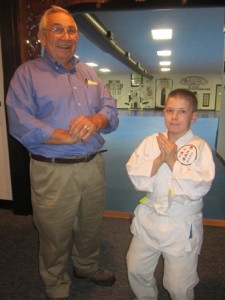 Ben and Travis have been a pair since last January, so they are just about to reach their one year Big-Little anniversary milestone. What has happened in a year?
Meeting up on Monday nights, Ben and Travis have gone bowling, experienced Karate at the Brattleboro School of Budo, and have gone fishing together. Fishing is one of Travis's favorite things to do with Ben. Although he has not kissed any of the fish they have caught, Travis has learned how to untangle a fishing line- all from Ben's expertise.
A favorite observation on fishing days has been watching an amphibious vehicle that sometimes shares their fishing area. "It's a car that goes in the water!" Travis explained.
In addition to fishing, Ben and Travis really enjoyed the Bowl for Kids' Sake Fundraiser, sponsored by Big Brothers, Big Sisters. "We had a really good time that day," Ben said. "Travis loves bowling."
Bowling and fishing aside however, it seems that the activity both Big and Little get most excited for is Karate. Ben emphasized the progress that Travis has made because of the School of Budo. "Karate is regimented, disciplined… it emphasizes manners. There is a ritual way to treat each other and thank each other. It demonstrates discipline and respect. Travis has become a much better student." Indeed, Travis was proud to explain to me his Obi belt, highlighting that "the yellow stripe means [he is] ready to test!"
As their first year comes to a close, Ben and Travis are still in the beginning phases of their relationship together. Their bond is a work in progress, and Ben has hope that, with time, it will further develop in the future. In fact, Ben's biggest wish for the future is that he would have more time to spend. "I'm involved with so many other non-profits," Ben says, "So I am really only able to spend the 4 hours a month," but "Travis would be happy if I could spend 15 hours a week!"