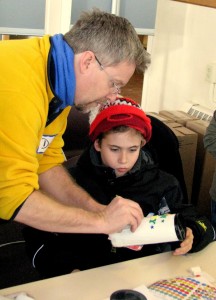 When Don and Andrew first met, Andrew was a shy, endearing 5th grader.  Andrew had difficulties making friends and discussing the things that were troubling him.  He was going through a lot in his life and his grandmother thought he could benefit from some support and guidance.
Don, a local community member, joined BBBS and was matched with Andrew. Don is very patient and understanding.  The two spent time together on the weekends, going to the arcade and the go-cart track, forging a long-lasting bond. Don says, "Being a big brother is probably nothing like what you expect. All your little brother wants from you is your time and attention. For some, that may be a great deal to ask; but for them, it's as though you are the single most important person in their universe- whether for the time you spend together each month or even beyond. I'm always so surprised to see how excited my little brother is when I come to pick him up. We share our time and for me that's enough. I hope he enjoys my company half as much as I enjoy his. "
Being with this pair, you can't help but notice the bond that they have forged.  As Andrew grows older he now has someone to trust with whom he can share all of life's ups and downs!