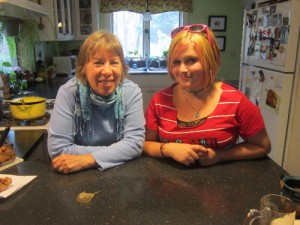 When you see Oriah and Jude together, you can immediately feel a unique connection in the air. Perhaps it is because the two share so many similarities. As Oriah puts it, "[Jude is] like the copy of me, my clone."
This wasn't the immediate feeling when Jude and Oriah first met 4 (or was it 5?) years ago.  In our meeting, Jude confided that she was a bit nervous upon her first encounter with Oriah. She was anxious to see if Oriah was expecting a younger Big Sister, someone who was in her teens. Oriah confirmed Jude's fears, boldly admitting that her first reaction to Jude was, "It's my grandma!" Based on first impressions, Oriah had a few reservations.
"But things turned out good," Oriah went on to say.  "Jude is more active and cool than I thought. She's creative, she's an artist, and she tries things a lot."
Jude held similar praises for Oriah. "She's inventive, smart, creative… she's fearless." Jude described for me one of her first outings with Oriah: "When I first met her, one of the things she wanted me to do was go to Gallery Walk. Oriah brought her cello and I brought candles and we set up a place for Oriah to play and make some money. And she did! She made about 10 dollars that night!"
Jude expressed her appreciation for Oriah's many talents. "I was a shy kid; I was self-conscious. I see Oriah so comfortable in her skin, fearless about her looks and about meeting people, and I admire that in her. I can take those lessons into my life now."
Since the pair have been together, they have shared many experiences. The two have gone "tadpoling" (catching pollywogs), created art projects together, had lunch on many occasions and have even watched Marilyn Monroe movies.
"Now she's my favorite person," Oriah said, while sporting a very stylish mustache.
As Oriah grows older and expands her social circles, Jude explored the idea that time with her little may change. "It may become something where we keep in touch instead of spend so much time together. It will be interesting to see how I fit into [Oriah's] life, but I'll take whatever I can get."
Oriah's mom expressed her appreciation for the bond that Oriah and Jude have formed as well, "I may be Oriah's mom, but I know that it really does take a village to raise a child…. I am particularly grateful for the relationship Oriah has with Jude. Their bond is very special and very close. I love Jude very much; don't ever take her away! If Oriah thought for a moment that Jude could no longer be in her life… I can't even imagine how horrible her grief would be."
Oriah and Jude have indeed shared a special bond. They have developed an easy banter with one another and seem to truly appreciate the other's talents. What is the pair's next art project and creative adventure?
Creating earrings out of horseshoe crab shells.
Can't wait to see how they turn out!