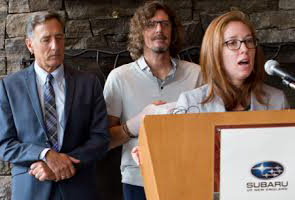 STOWE-With the endorsement of Governor Peter Shumlin, Subaru of New England donated $25,000 to Youth Services to help the nonprofit develop an innovative youth counseling program to treat addiction.
"Once again I stand here thanking Ernie Boch Jr. and Subaru of New England for a generous donation to tackle an issue here in Vermont," Gov. Shumlin said, noting that Boch has donated to Irene Recovery efforts, Green Up Day and the Vermont Universal Children's Higher Education Savings Account Program. It marks his second donation to combating opiate addiction in Vermont, following last year's commitment to Recovery House Inc. in Rutland.
"Drug abuse is one of the most serious problems facing our state and the nation," Gov. Shumlin said. "Today's donation to Youth Services will help us reach kids with counseling and treatment to help them turn their lives around."
"Opiate addiction is a serious public health problem with terrible consequences. The support and treatment that Youth Services provides for young people in Vermont is crucial and life-saving. On behalf of Subaru of New England, I'm here today with a check for Youth Services for $25,000 dollars to help fight this battle," stated Ernie Boch Jr.
Youth Services is a private non-profit founded in 1972 to provide prevention, intervention and development programs for young people and families in Windham County communities, regardless of ability to pay.
The organization is launching a new Youth Substance Abuse Treatment Program, which is cited as one of the most pressing needs in Windham County. "We very much appreciate the support of Governor's Shumlin in facilitating this donation and the generous support of Subaru of New England for helping us launch this critical endeavor," explained Russell Bradbury-Carlin, Youth Services' Executive Director.
"Young people face a lot of hurdles that prevent them from seeking treatment, including intense peer-pressure and lack of parental support," said Bradbury-Carlin. He said Youth Services will be hiring a licensed therapist who will spend part of their time out of the office and in the community.
"Our new therapist being able to travel is key because many of the folks we work with struggle with lack of transportation and isolation from other services and connections," explained Rosie Nevins-Alderfer during her acceptance of the check for Youth Services.
Youth Services has been doing street outreach, case management, and work with court-involved youth for 40+ years—so the youth we already work with are some of the folks that will benefit most greatly from having a clinician dedicated to substance abuse on board, according to Nevins-Alderfer.  "Our peer outreach workers (former clients who are now staff) will be critical in connecting our new addiction and recovery counselor with youth we would not otherwise be able to serve," Nevins-Alderfer said.
The peer outreach model is evidence-based and has a long history of success in homelessness, housing and addiction support nationwide. "We are excited to employ it here as one of our many strategies to meet youth where they are at," Nevins-Alderfer explained.