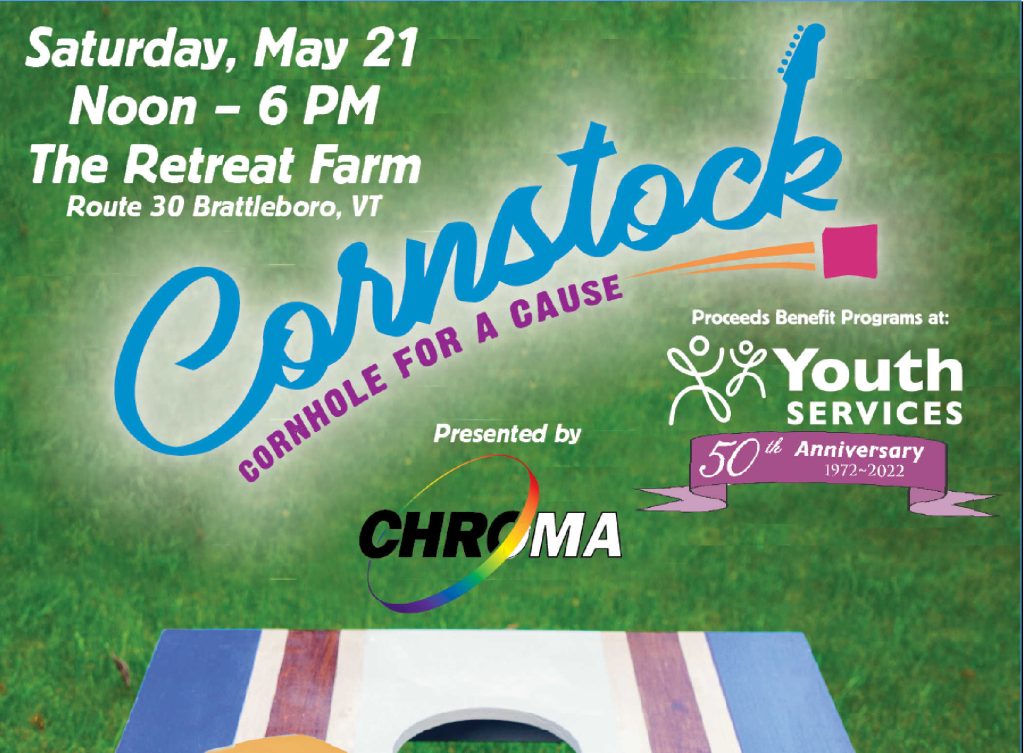 Youth Services' newest fundraiser, CORNSTOCK, Cornhole for a Cause! will be launched on Saturday, May 21 at the Retreat Farm on Rt. 30 in Brattleboro, Vermont, with a goal of raising $20,000. Presented by Chroma, this is an outdoor, socially-distanced activity for people of all ages who share a passion for cornhole and Youth Services.
Live music, food trucks, the Thirsty Goat Pub and the Creemee Stand are added attractions to turn an hour of cornhole into an afternoon of outdoors fun. The event is open to the public for a suggested $5 donation at the door.
How It Works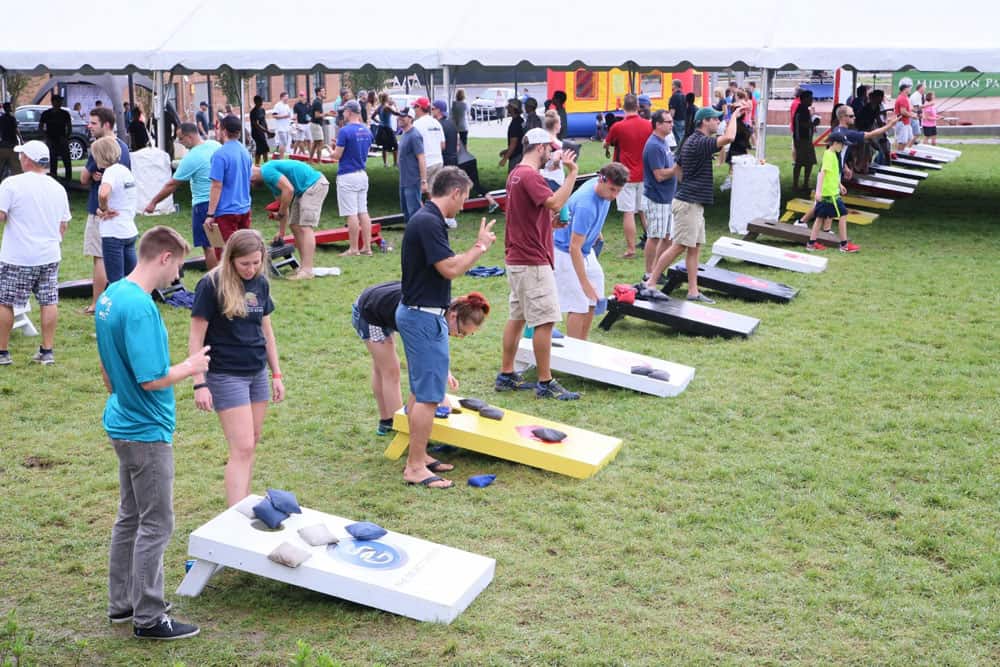 A minimum of four players reserve an hour of their choice between noon and 6 pm. for a 2- board set-up. They collect funds from sponsors through easy peer-to-peer fundraising (this waives the otherwise $25 per person registration fee).
Teams of friends or colleagues or businesses can reserve the same hour and request to be situated near one another in one of twelve lanes. Instructions can be provided to novice players. There will be an award for top fundraiser and the best team uniform each hour.
Unexpected (and optional) challenges will keep the cornhole players and the spectators entertained. Every player that raises more than $100, $250, $500, $1000 and $5000 or more will receive incentive prizes and there is a special award for the top individual and top team fundraisers of the day. Rain date is Sunday, May 22.
Get Active & Join in 3 Easy Steps:
CORNSTOCK: Cornhole for a Cause! during its inaugural year!
STEP 1: Join a team or create a team today.
Teams are formed with four or more members led by a captain who reserves an hour of play time for May 21. Consider creating a team with family, friends or co-workers. $25 is the per person registration fee (waived if you elect to find sponsors through easy peer-to-peer fundraising platform.) Note: If a team captain is playing on a team, enter your info twice!
STEP 2: Collect pledges for your participation between now and May 21
Start securing sponsorships, using email and social media or an old-fashioned sign-up sheet that you can download, print and circulate on a clipboard. Most cornhole players raise about $170, but many people raise over $1,000.
One hundred percent of the money raised by cornhole players goes directly towards supporting people served by Youth Services in our Windham County communities.
STEP 3: Show up on May 21 and encourage friends and family to come watch and enjoy the afternoon!
Start tossing. After you have secured your sponsorships, it's time to have fun! At the check-in, you'll receive a CORNSTOCK collectible souvenir, and Incentive Prizes based on your fundraising totals.
Spectators can come watch the cornhole games, join with you to enjoy the music, food truck fare, creemee stand and Thirsty Goat Pub for a mere $5 suggested donation at the gate.
So what are your waiting for?
Start recruiting your team today! Together we will be a catalyst for change. Together we will change the odds for the youth of our community.
HELPFUL LINKS
Play Times for Cornholes (as of Friday 5/20 at 4:30 pm)
Discover Frequently Asked Questions
Set Up Your Easy Fundraising Page
Sample Language to Use in Fundraising
Find Incentive Prizes for Cornhole Players
Donate to Youth Services and sponsor players
Watch a video about the cause: Youth Services: 50 Years Building Community
Download and Print Sponsors Sheet (for use in person)

Register Your Team