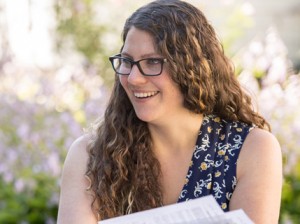 Brattleboro—Youth Services has officially hired Jocelyn York as its Balanced and Restorative Justice (BARJ) Coordinator for the organization, a position she has fulfilled on a temporary basis since last year.  In this program, Youth Services works with youth ages 13 through 22 who have been adjudicated in Family Court, are on probation, are at risk of a truancy filing, have Youthful Offender Status, or require additional support.
According to Youth Services' Executive Director, Russell Bradbury-Carlin, the agency's BARJ program recognizes that many young people entering the criminal justice system have underlying factors that might lead to the criminal misconduct.
"Early intervention is key to addressing the reasons that kids aren't showing up for school or have started to get in trouble with the law.  With early intervention we can reduce the likelihood of future involvement in the justice system.  Sometimes, by offering individual or group coaching in conflict resolution, anger management, and other skills, we can help the young person and their parents turn around the situation," Bradbury-Carlin explained.
York is an integral part of the School Success Program, a collaboration between Youth Services and Windham Southeast Supervisory Union. The program focuses on truancy intervention for students age 13-18. The program works primarily one-on-one with students, but also includes work with families and other involved community providers.
"Jocelyn works from a different stance that the traditional "Truancy Officer", Bradbury-Carlin stressed, "acting instead as a supportive helper with a positive, proactive and less punitive approach that builds the necessary skills and understanding needed for student and families to make a long-term commitment to education. She looks at all areas of a student and family's life that contribute to or can help solve the problem."
York's supportive case management focuses on reducing stresses at home that might be related to money or work problems, housing issues, health needs, and/or transportation. She works to identify and develop the skills and interests of the young person.
York explains, "We link youth and their families with other community providers that can meet their needs. By getting my clients involved with other established community supports and activities outside of the school, I can help them reduce their life stressors and focus more clearly on what they need to do to get through school. When necessary, I also may help a student switch to another school or academic program that may better fit their needs than the traditional K-12 system."
According to Bradbury-Carlin, the outcomes of this collaboration are increased school attendance, improved relationships in family and school, improved life satisfaction and self-esteem, increased parent involvement, and improved access and use of resources.
Before joining Youth Services, York had been a mental health worker on the Brattleboro Retreat's Adolescent Inpatient Unit, a behavioral interventionist in Barre, Vermont for Washington County Mental Health's early childhood autism program, and a pre-school teacher in Windsor County. York has bachelor's degrees in Women's Studies and Liberal Studies from Sonoma State University in California.
To find out more about Youth Services Restorative Justice programs, call Youth Services at (802) 257-0361 or visit www.youthservicesinc.org