A enthusiastic turn out by local golfers —78 in all — and strong corporate support, made Youth Services' 34th Annual Golf Tournament a rousing success, generated nearly $15,000 to help underwrite the agency's programs. The tournament was held at the Brattleboro Country Club on July 24, a breezy 80-degree day with sunny skies.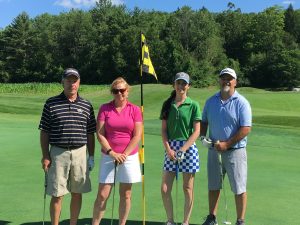 The Elizabeth Walker team of Andrea Nelson, Eileen Ranslow, Terry Boyce and Elizabeth Walker won First Gross, with the Brattleboro Food Coop team of Bob Lyons, Sabine Rhyne, Jeff Houle and Tracy Sloan finishing First Net.
The Springfield Housing Authority team of Bill Morlock, Mike Augustauskas, David Nichols and Tracy Johnson took Second Gross with the Cersosimo Industries team of Michael Cersosimo, Brian Knowles, Bruce Davis and Wayne Wright taking Second Net.
Elizabeth Walker won the prize for the Women's Longest Drive. Sabine Rhyne took Women's Closest to the Line with Maggie Aldrich winning the prize for Women's Closest to the Pin.
In the Men's Division, Brian Knowles took the prize for Men's Longest Drive. Dave Anderson took Men's Closest to the Line with Paul Saccoccio winning Men's Closest to Pin.
Youth Services' Executive Director Russell Bradbury-Carlin, together with staff member Gail Bourque, ran a Putting Contest which raised close to $200 for the agency.  The winner of the Putting Contest was Bonnie McKellar.
For the sixth year in a row, there was a silent auction and over 50 items and services were raffled thanks to the generosity of local businesses who has supported the fundraiser with contributions in-kind.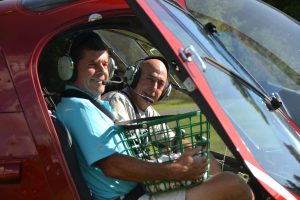 A special feature was the 7th year Helicopter Golf Ball Drop thanks to the Renaud Bros, Inc. helicopter, piloted by Mike Renaud and assisted by David Manning. Individuals did not need to be part of the tournament to buy golf balls, priced at $100 each, nor be present at the drop to win. Buckets of golf balls were dropped from 20 feet on the fairway at the Brattleboro Country Club, with the winner of the $3000 cash prize being Melanie Boese of Brattleboro, VT with ball #46.
Because of struggles with substance abuse in her family, Boese pledges to donate her winnings to Youth Services new Substance Abuse treatment program.  Jeff Morse and Gene Wrinn had the next closest balls. Melanie Boese was also top bidder on the helicopter ride that evening.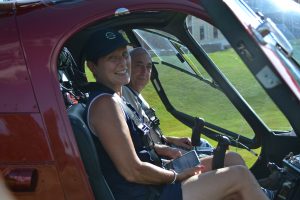 MANY THANKS TO OUR SPONSORS

PRESENTING SPONSOR (Golf Tournament)
G. S. Precision
PRESENTING SPONSOR (Gala)
Twombly Wealth Management
SUSTAINER SPONSORS
Brattleboro Savings & Loan
Chroma Technology
ClearChoiceMD Urgent Care
Edward Jones Investments
New Chapter
River Valley Credit Union
Silver Forest of Vermont
Vermont Country Deli
PATRON SPONSORS
Berkley & Veller Greenwood Country Realtors
Brattleboro Retreat
C.E Bradley Laboratories
Chroma Technology
C & S Wholesale Grocers
Crispe & Crispe
David Manning Inc.
Downs Rachlin & Martin PLLC
Green Mountain Tents
Phillips, Shriver, Dunn & Carroll, PC
Rolls Royce Nuclear
Trust Company of Vermont
ASSOCIATE SPONSORS
Cota & Cota Oil Co.
Price Chopper's Golub Foundation
Stevens & Associates, PC
True North Granola
WW Building Supply
MEDIA SPONSORS
Brattleboro Reformer
WTSA