The Brattleboro Community Justice Center and Restorative Justice Programs at Youth Services announced that they are joining forces, effectively shifting restorative justice practices in the greater Brattleboro area under one administrative umbrella and roof, a move long-considered by both organizations and heartily endorsed by other community partners, according to executive directors of both organizations.
"This merger will build on the strengths of each of our two entities, promote synergy and permit more resources to be devoted to community outreach for using restorative practices in area businesses and organizations," explained Russell Bradbury-Carlin, Youth Services' Executive Director and Mel Motel, Brattleboro Community Justice Center Executive Director, in a joint statement.
The Brattleboro Community Justice Center, with 3 staff and an AmeriCorps VISTA, engages with community members to repair harm caused by conflict and crime. The Center provides trainings in schools and neighborhoods; offers mediation around community conflicts; facilitates restorative interventions with individuals involved in the criminal legal system; and works with individuals returning to the community after incarceration.
Mel Motel, Executive Director of the Brattleboro Community Justice Center described the work of her organization as "building restorative communities where all people get what they need and "where we ourselves have the skills to respond to and transform harm within our own relationships and communities."
Youth Services, with a staff of 21 and an AmeriCorps VISTA, has a long and impactful history of serving young people and families living in all kinds of difficult circumstances in Windham County. Since its inception in 1972, nearly forty-nine years ago, Youth Services has been and continues to be a community innovator. As such, it was one of the first organizations in the state to embrace Court Diversion 40 years ago as a way to help youth repair the harm and address underlying conditions that lead to crimes.
With time, Youth Services was asked by the State's Attorney Office to apply this successful approach to adults in the community. More recently, adults also benefit from its pre-trial services and a program to reinstate driver's licenses under specific circumstances.
Expansion in the last decade also occurred in Restorative Justice programs for youth, according to Sally Struble, Director of Restorative Justice Programs at Youth Services. Added in the last decade is a Youth Substance Awareness Safety Program and BARJ, which seeks to reduce and eliminate further involvement in the juvenile justice system and improve school attendance. Struble confirmed that all programs in each organization will continue after the merger, which will officially take place in July.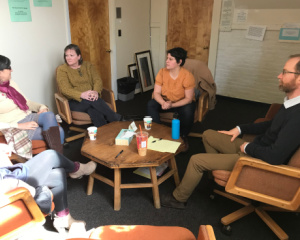 Mel Motel is expected to remain with the merged entity as a co-director of Restorative Justice Programs, shedding the executive director role while increasing her community outreach for restorative practices, something she said she is thrilled to be able to focus her energies on.
Struble explained that the two organizations have a long history of collaborating, striving to develop a seamless experience for the community that uses their restorative justice services. Now the public will be able to find all Restorative Justice programs under one roof at 32 Walnut Street in Brattleboro.