Learn more about Restorative Justice and its place in our local justice system on Wednesday, November 29 at 6:30 p.m. at the Putney Library with a presentation by members of Youth Services and the Brattleboro Community Justice Center.
Restorative Justice is an approach to harm that focuses not on broken rules or laws but on how people are affected by wrongdoing and how to repair harm that was caused. People across the United States and the world use restorative justice to respond to conflicts in schools, community groups, neighborhoods, families, workplaces, and more. And restorative justice is happening right here in our communities, with youth and adults, in schools and in the legal system.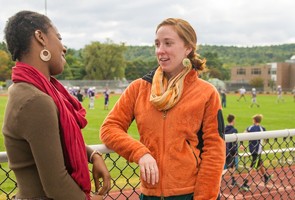 Rosie Nevins-Alderfer, director of Restorative Justice programs at Youth Services and Mel Motel, director of the Brattleboro Community Justice Center will be leading a conversation about what Restorative Justice is, why it matters, and what it looks like in our local area today.
Rosie Nevins-Alderfer joined Youth Services as the director of Restorative Justice Programs in 2015, after graduating from Northeastern University School of Law. At Youth Services her work encompasses court diversion, support for access to substance abuse and mental health treatment, victim advocacy, social and economic justice. The programs serve a variety of ages, and receive roughly 400 referrals per year from Windham County.
Mel Motel joined the Brattleboro Community Justice Center as director in August 2017. Prior to that she was founder and director of the Just Schools Project, where she worked with hundreds of youth and adults throughout New England to bring restorative practices to K-12 schools.
Putney Public Library is located at 55 Main St. This event is free and open to the public.