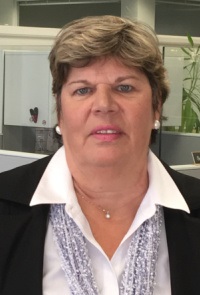 Cathy Coonan, insurance professional at The Richards Group, recently assumed the role of President of the Youth Services Board of Directors, taking the reins from Rachel Selsky whose four-year term has just ended.  Coonan has been on the agency's Board of Directors for the past five years in a number of leadership positions.
During her tenure on the Youth Services board to date, Coonan has held the position of Vice President and has served on the Executive, Development, Events and Golf Tournament committees.  Last month she co-chaired a successful Youth Services Annual Golf Tournament and Helicopter Golf Ball Drop with Craig Miskovich.
Coonan has served before in similar capacities in the region, as board chair of Brattleboro Memorial Hospital and as a founding member of Building a Better Brattleboro. She is active in the Brattleboro Rotary Club and serves on the Board of Directors of Garden Path Elder Living.
A commercial insurance agent for The Richards Group for the past 35 years, Coonan is a Certified Insurance Councilor specializing in health care and human service organizations. Coonan's many contributions to the community were recognized by the Brattleboro Area Chamber of Commerce when they named her 2004 Person of the Year.
"Cathy's organizational skills and her deep community roots, having spent her entire life as a resident of Windham County, will be a tremendous asset to everyone at Youth Services," said Russell Bradbury-Carlin, Youth Services' executive director. "Cathy's analytical abilities and her calming and sensible problem-solving makes her an excellent leader and role model for the board," Bradbury-Carlin explained.
"I'm looking forward to continuing the legacy of strong leadership at Youth Services and supporting the critical work that the agency does for the young people, adults and families in our community," Coonan said.
Ana Saavedra of Edward Jones Investments assumed the role of Vice-President of Youth Services' Board.
Youth Services was founded forty-eight years ago to help young people and families in Windham County thrive. In that time they have helped countless numbers of young people discover their own path to adulthood to become a contributing member of our communities through runaway and homeless youth programs, Court Diversion, our mentoring programs, substance abuse counseling and DemoGraphix- a youth-led screen printing business.
To learn how you can get involved, contact info@youthservicesinc.org or call (802) 257-0361.