Two teen alternative-rock bands Raspberry Jam and Moxie shared the winner circle, taking first prize in Youth Services' Battle of the Bands Friday evening November 3 during Brattleboro's Gallery Walk Night, in front of an enthusiastic crowd of several hundred fans.  Sponsored by Pacesetter Sponsors Richards Group, Brattleboro Subaru and G.S. Precision, it was a fierce competition between five talented area bands that were judged on crowd appeal, musical technicality, stage performance and originality.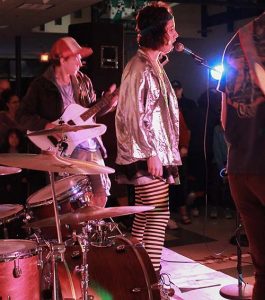 Raspberry Jam, from Massachusetts brings a new spin to alternative music with their "very catchy arrangements," according to the judges. The Pioneer Valley area band "demonstrated a rockin' stage presence and are wicked fun to listen to," stated another. Mac Almeida, 18 was on guitar, Aloutte Battreau, 16 on vocals, Joshua Xavier Gibson, 17 on bass and Milou Rigollaud, 18 on drums.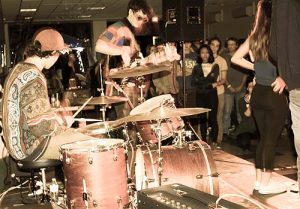 Moxie describe themselves as like opening a non-stop, effervescent fountain of all-original, bubbly, super-danceable, 80s-esque indie rock.  Judges confirmed, "no doubt a crowd pleaser," and another judge noted, "Super strong stage presence: everyone immediately moved forward to listen." Rei Kimura, 14 was on guitar and vocals; David Cohen on bass; Leander Holzapfel, 16 on guitar; and David Snyder, 15 on drums.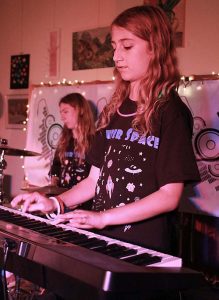 First prize is a full day (up to 10 hours) of professional recording time donated by Guilford Sound, valued at $1500. In addition, donated by Pure Green Tees, the 1st place winners will also receive a dozen custom-designed T-shirts of their band logo. Other prizes included a two-hour rehearsal and banch coaching session at Headroom Stages and vocal coaching with Judge Samirah Evans.
The Band Notion from the Manchester area came in third, followed by Outer Space from Brattleboro and Fiig, from Westminster.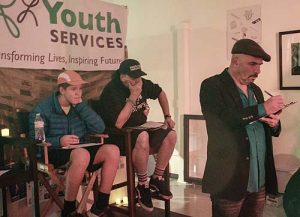 Judging the Battle were musicians Eugene Uman, Samirah Evans, Spencer Crispe and two youth judges from winning 2015 band, Nomad vs. Settler, Archer Parker and Owen James.
Russell Bradbury-Carlin, Director of Youth Services said they were proud to have produced such a successful event. "The bands were all amazing and the crows of young people and adults provided the perfect amount of encouragement and energy. The Battle of the Bands was truly a celebration of youth and of great music," Bradbury-Carlin said.
For more information on services for young people in Windham County, contact Youth Services at (802) 257-0361 or visit wwwyouthservicesinc.org