Youth Services is pleased to announce that Mack Mackin has joined the Youth Development team as the new Youth and Young Adult Intake and Groups Coordinator. Youth Services' Youth Development programs provide wrap services for youth and families in Windham County, with a focus on safe, successful transitions to adulthood.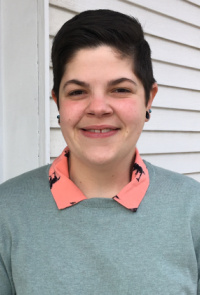 Mackin will be working out of both Youth Services' Brattleboro and Bellows Falls offices where they will spend their time conducting intake screenings, providing brief and stabilization services for youth and families, and coordinating groups–including professional development and support groups for Youth Services' host home program.
Designed to ensure a coordinated entry into Youth Services, Mackin's position supports youth and families seeking services by linking them to basic needs resources such as food, transportation, medical care, therapeutic supports, and emergency or respite housing.
"Mack's role as the intake coordinator allows us to be intentional about how we support youth and families while making sure that we are not ignoring the often crisis or near-crisis level resource needs that bring them in to seek services," explained Christine Linn, Director of Youth Development programs.
According to Linn, youth development programs are driven by the core belief that youth and families fare best when they stay together until the youth is ready to intentionally transition to independent living.
Using a relationship-based, therapeutic case management model, coordinator and case managers collaborate with youth and families to understand family conflict and increase communication skills using non-violent communication, access resources, navigate education, child welfare, or other state systems, and connect to their community in meaningful ways.
Youth Services staff use an intensive, therapeutic case-management model to focus on building awareness and life skills in core areas of housing, education, employment, increasing permanent connections, health and well-being.
Linn sees Mackin's role as key in the department. "We've designed Mack's role to screen for eligibility and need while assuring that youth and families' basic and acute needs are addressed. This gives us the time, as a department, to assure that youth are connected to services that are right for them," explained Linn. "By enhancing our groups offerings, we're also able to connect youth and families who are waiting for case management openings to groups that foster resilience and keep them connected to the department."
"Mack is a great fit for this role," said Linn. They are deeply invested in solving youth homelessness and clearly place youth and family voice in the center of service provision and care deeply about assuring that people seeking services get their needs met in a way that is individualized."
Mackin is no stranger to working with young people. Prior to joining Youth Services, Mackin was the Kids Club Program Coordinator at the Brattleboro Boys and Girls Club where they connected with pre-teens and teens in its after-school program, developed programs and activities related to both services and professional development for staff. Mackin created a podcast that focused on harm reduction and mentoring. Mackin has served as a volunteer board member of Westgate Housing since 2019.
"Mack is a wonderful addition to the Youth Development team and our community," Linn exclaimed. Mackin has a Master's of Science in Management with a focus on mission-driven organizations from Marlboro Graduate School and an undergraduate degree from Marlboro College, a cross-study between psychology, sociology and radio journalism.
For more information about Youth Services therapeutic case management program or volunteering as a temporary host home in Windham County, please contact Christine Linn at christine.linn@youthservicesinc.org or visit www.youthservicesinc.org online.