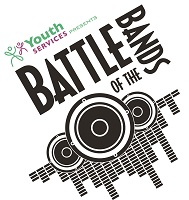 Fierce competition between the six area youth bands playing in Youth Services' Battle of the Bands is expected on Friday, November 3 from 7-10 p.m. in the River Garden in Brattleboro, VT. The competition occurs during Brattleboro's Gallery Walk Night and is one of the ways Youth Services is celebrating young people as part of its 45th Anniversary.
This is the fourth time Youth Services has hosted a Battle of the Bands over the last decade The public is encouraged to attend and vote for their favorite group with their applause. Competing bands are, in order of appearance: Impending Exorcism, Raspberry Jam, Notion, Outer Space, Moxie and Fiig.  
Opening the event will be a performance by the indie-rock band Nomad vs. Settler, which gained visibility as performers when they won the last Battle of the Bands in 2015.
The youth bands who are competing include the alternative music of Raspberry Jam from Turners Falls and Greenfield, MA which blend pounding rhythms with intricate guitar work heavily influenced by The Strokes. The have a collection of original music that will soon be released as a free album. Local audiences were first exposed to Notion, a Manchester, VT band at the Brattrock 2017 Youth Rock Festival. Notion emulates the indie rock style of Mac Demarco, Phish, and Talking Heads.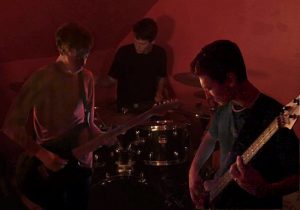 Fiig of Westminster, VT plays rock and funk. Impending Exorcism, all 17-year-olds from either Brattleboro or Whittingham has spent the last year and a half growing "into their skins" as punk musicians and performers. The band Moxie is described as "opening a fine bottle of classic sodapop, a SoVT mash up which emits a non-stop effervescent fountain of all-original, bubbly, super-danceable, 80s-esque indie rock."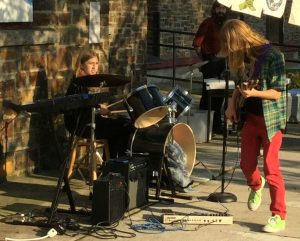 The youngest and smallest band, Outer Space, features the two Paquette brothers of Brattleboro on four instruments playing their unique form of "space rock" and sometimes punk. They also competed in the 2015 Battle of the Band.
Masters of Ceremonies will be BUHS seniors Rhys Glennon and Miles Hiler, both talented musicians and performers in their own right.
Judging the Battle are adult performers and musical connoisseurs Samirah Evans, Spencer Crispe, and Eugene Uman. Samirah Evans is a performing and recording artist, a composer and educator from New Orleans where she was a popular and in-demand singer.  Her band, Samirah Evans and Her Handsome Devil performs frequently in these New England and she teaches vocals at Williams College and in her home studio. Local attorney Spencer Crispe played in bands for 15 years and was in the first Vermont underground band to tour in Europe and Japan. An avid concert-goer, Crispe has already listened to in excess of 1,000 live concerts. Eugene Uman is a world class jazz pianist, composer and educator. As Director of the Vermont Jazz Center since 1997, he has grown the center into an esteemed concert venue for internationally recognized jazz artists.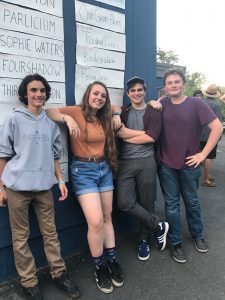 The adult judges will be joined by two youth judges: Owen James, 13 and Archer Parks, 16 both past winners of the 2015 Battle, from the band, Nomad vs. Settler. James contributes "soulful bass lines" to their sound while Parks' lead guitar riffs have been celebrated as "haunting" and contributing to Nomad vs Settler's vast dynamic and melodic range, all performed with " jaw-dropping punch," according to recent review.
James and Parks take their music seriously. Owen James studies piano, bass, guitar and drums and performs on keyboard in Court Etiquette, another New England youth indie rock band, in addition to base with Nomad vs. Settler. "I deeply understand what makes a good song and how well it was written," explained James. His bandmate, Archer Parks, 16, a student at Putney School could be classified as a musical prodigy. He has already competed twice in Youth Services' Battle, the first time at age 12 with his band Suffolk Punch. Originally from a classic rock music background, he now dabbles in many genres such as indie rock, jazz, bebop. acoustic, gypsy jazz, traditional folk and bluegrass. "I'm definitely looking forward to joining Eugene, Samirah and Spencer as one of the judges," stated Parks.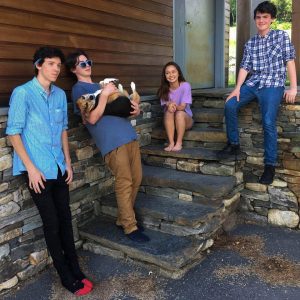 Bands will be judged on crowd appeal, musical technicality, stage performance and originality, according to Russell Bradbury-Carlin, Youth Services' Executive Director. "Whether or not the bands decide to make a career out of making music, they will gain experience that will help them to be successful in any career," Bradbury-Carlin stated.
First prize for Youth Services' Battle of the Bands is a full day (up to 10 hours) of professional recording time donated by Guilford Sound, valued at $1500. A residential recording studio retreat on 300 private acres in Guilford, Vermont, the high-tech studio is owned by sound engineer David Snyder.  The 1st place winners will also receive a dozen custom-designed T-shirts of their band logo, donated by Pure Green Tees, a local company.
Second prize is two-hour rehearsal and band coaching session at Headroom Stages, a local musical venue at 17 Elliot Street in Brattleboro, VT.
Third prize is two private vocal lessons with Samirah Evans, a professional jazz and blues vocalist who performs regionally.
"The Battle of the Bands is an exciting event for everyone in the region.  Please come help cheer on the budding young artists in the area," said Russell Bradbury-Carlin, Youth Services Executive Director. "This 45th Anniversary event of Youth Services celebrates the entrepreneurial nature of young musicians forming bands and expressing their musical inspiration," he explained. The cover charge is $8 for adults/$4 for young people under 18 and includes refreshments and door prizes. Youth Services' Pacesetter sponsors for this event are The Richards Group, Brattleboro Subaru, GS Precision. The media sponsors are BCTV and WKVT. For more information, contact Youth Services at (802) 257-0361 or visit wwwyouthservicesinc.org