Youth Services, which provides two transitional shelters in Windham County for homeless and unsafely-housed young adults, has collaborated with The Brattleboro Museum & Art Center (BMAC) and four other nonprofits, around two art exhibits intended to heighten awareness and foster constructive dialogue about local homelessness.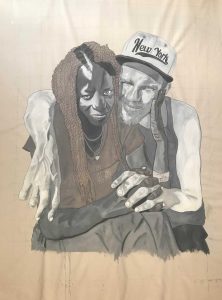 The two exhibits planned to be on view at BMAC from March 14 to June 14 but are temporarily closed until further notice due to COVID-19.
"Steven Kinder: 552,830" consists of larger-than-life portraits of people experiencing homelessness in New York City, accompanied by Kinder's sketchbooks, working photographs, and paraphernalia that the people featured in the portraits gave or sold to Kinder, such as cardboard signs and collection cups. The exhibition title refers to the number of people who experienced homelessness in the United States in 2018.
Additionally there is an exhibition of photographs, video, and written narratives developed in collaboration with Groundworks Collaborative called "Coffee & Conversation: Stories of Homelessness," an updated version of a 2015 project that brought together Brattleboro residents experiencing homelessness with those who have stable housing.
For the exhibits and a series of related events, BMAC is collaborating with Groundworks Collaborative, Youth Services, Southeastern Vermont Community Action (SEVCA), Windham & Windsor Housing Trust, and the Town of Brattleboro.
"Our community has invested so much into having difficult conversations about social issues in order to find real-world solutions," said Christine Linn, Youth Development Director at Youth Services.  "And so often it can be hard for individuals to view people experiencing homelessness with empathy, despite the advocacy of local agencies and participation of people experiencing homelessness themselves."
"The BMAC exhibits and related events are a profound means for the public to witness the humanity of individuals experiencing homelessness–to not just hear about the issues but, hopefully, to be emotionally connected with individuals' journeys," explained Linn.
"Over the past four years, BMAC has found that one of the ways we can be of greatest value to our community is by presenting artwork that serves as a platform for the exploration of important social issues," said BMAC Director Danny Lichtenfeld. "Projects like these deepen BMAC's connections within our community, and they allow us to serve as a center of discussion and creative solution-making."
The Brattleboro Museum & Art Center is closed until further notice. In normal times, it is open 11-5 every day except Tuesday. Regular admission is $8 for adults, $6 for seniors, and $4 for students. Members and children 18 and under are admitted free of charge. For updates on expected re-opening of the gallleries, visit www.brattleboromuseum.org.
Meanwhile, click here to see a catalog of Steven Kinder's portraits.