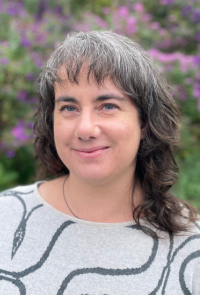 Annaliese Griffin, a journalist for The New York Times, Rolling Stone, The Marshall Project, Quartz and New York Magazine recently joined 11 other community members in serving on Youth Services' board of directors. Through twenty programs ranging from restorative justice, to mentoring, transitional living, workforce development and therapeutic case management, the nonprofit agency helps Windham County thrive.
Griffin has served on the Brattleboro Community Justice Center board since 2019 and as a volunteer there since 2016. She has been a member of several of the center's re-entry Circles of Support and Accountability, in which a team of trained community volunteers meet with individuals recently released from prison. The group helps with challenges such as finding a place to live and work, healing relationships and building new ones.
Mel Motel of the Brattleboro Community Justice Center recalled that when Griffin served as a member of the Town of Brattleboro's Community Safety Review Committee in 2020, the journalist brought insights from the committee to her board membership, restorative justice volunteering, and the Center's Neighborhood Restorative Justice Committee, which has explored ways to bring restorative justice to local neighborhoods and groups.
Instrumental in the decision of the Brattleboro Community Justice Center to merge with Youth Services' Restorative Justice programs, Griffin said she is excited to see the merger benefit Windham County communities by bringing all existing restorative justice services under one roof in order to serve people better. "I also expect that the two organizations working together will develop more creative community-based restorative programs, Griffin stated.
Griffin splits her time as a journalist between writing and editing for a number of national publications. Recently she joined Youth Services' Public Relations committee where she hopes to use her expertise with the written word.
"Annaliese's background as a journalist will help us sharpen our media relations efforts and our ability to explain the purpose behind concepts such as restorative justice with the broader community, stated Youth Services board president, Cathy Coonan. "We also appreciate her enthusiasm for our fundraising events and as we fine-tune our volunteer training we look forward to tapping her experience as a Brattleboro Community Justice Center volunteer," Coonan predicted.
The most recent addition to the Youth Service' board, Griffin grew up in Springfield, Vermont and moved to Brattleboro with her family five years ago.