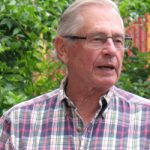 He was the numbers guy for Youth Services.  Board President Rachel Selsky recalls Rick's ability to break down even the most complicated budget for the rest of the board. For 17 years Rick Hashagen, a retired bank president kept a constant eye on Youth Services' financial stability.
President of Youth Services board from 2006-2008, Rick chaired the finance committee and was Youth Services' treasurer for much of his term. Rick was an Executive Committee member for close to a decade and joined the governance committee in the last several. Bobbi Kilburn, BDCC's Director of Finance & Grant Management, is taking on the role of Treasurer for Youth Services.
"Rick's ability to simplify Youth Services' finances and investments will certainly be missed," testified Selsky. "His experience and input has been invaluable and his impact on Youth Services will be felt long after he is gone," she said.
Rick was well-loved by golfers for his role running the putting contest at Youth Services' Annual Golf Tournament at the Brattleboro Country Club ever since the BCC got 18 holes and the tournament was moved there. In recent years, he would orchestrate the contest in tandem with his grandson.
Rick says he has thoroughly enjoy his years on the Youth Services board of directors. "It has been a rewarding experience working with excellent board members and competent and committed staff to implement our vision of improving the lives of area young people and their families." I will miss it, but leave knowing that Youth Services is in good hands," Hashagen said.