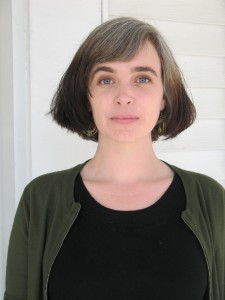 Christine Linn, a therapeutic case manager at Youth Services received the Ally Award on April 29 in a ceremony in Stowe, VT as part of the Vermont Crime Victim Rights Week Celebration. Linn was nominated for the state-wide award by her organization and her clients, comprised of youth in Windham County ages 16-22 years old who are currently unsafely housed or at-risk of being homeless.
The Ally Award, given each year by the Vermont Center for Crime Victim Services to one volunteer, professional or program in Vermont honors "a remarkable individual or organization who, outside the course of performing their regular duties, has advocated for a victim-centered policy; inspired us through their acts of courage and compassion; whose work has been particularly innovative and pioneering; and whose activities enhance offender accountability and community outreach."
According to her Youth Services supervisor, Lauren Higbee, Linn works tirelessly for her clients, many of which have severe trauma histories.  One example she gave is Linn supporting her clients in accessing complex systems such as law enforcement and the courts. "Christine also supports them in setting up safety plans if or until they are ready to leave violent relationships," explained Higbee.
Linn has served as a foster parent through Vermont's Department of Children and Families, and is also a driving force behind Youth Services support group for young mothers, where she has been instrumental in advocating for young mother's rights, according to Higbee. "Christine is a model for all of her clients so eventually they will be able to advocate for their own needs and rights," Higbee stated.
Linn's actions influenced attitudes, policies, practices, and prevention efforts on behalf of her clients. "Christine isn't settled or satisfied unless her work incorporates greater systems change," explained Russell Bradbury-Carlin, Executive Director of Youth Services, who said it was something he noticed about Linn as soon as he started at Youth Services nine months ago.
"Youth Services has watched her join with Economics Services Division, Vermont Adult Learning and the Parent Child Centers to streamline high school completion options for vulnerable young adults in our area," said Bradbury-Carlin. "Christine sits on the Brattleboro Citizen Police Communication Committee and she is constantly using any interactions as opportunities to educate providers, families, and legal parties about the effects of trauma, mental illness, stigma and attachment on victim's behavior, follow-through, and long-term healing," Bradbury-Carlin stated.
Youth Services staff and clients alike note that Linn will routinely work weekends and evening hours to support her client's goals and ensure their safety. "Her resourcefulness is always beyond what any supervisor can imagine," said Higbee who cited the example of Christine applying for the Green Street Elementary School and surrounding neighborhood in Brattleboro to become a designated Promise Community through the State of Vermont, which will result in access to up to $200,000 in funding and resources to support families, children and the neighborhood as a whole.
"Christine is engrossed in creating a stronger community by supporting families connecting to one another," said Higbee. "Windham County greatly benefits from Christine's commitment to our young people and to changing the culture and practice of Vermont to be safer and more responsive to victims of crime."
For more information on Youth Services' 18 programs in prevention, intervention and youth development in Windham County, visit youthservicesinc.org or call (802) 257-0361.