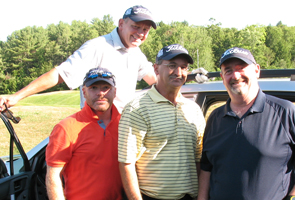 A very strong turn out by local golfers —116 in all — and strong corporate support, made Youth Services' 31st Annual Golf Tournament a rousing success, generated over $20,000 to help underwrite the agency's programs. The tournament was held at the Brattleboro Country Club on July 27, a warm 90 degree clear day. This was one of the highest turnouts since 2003, according to Russell Bradbury-Carlin, Youth Services executive director.
The team of Paul LaCoste, Mike Pacheco, Spencer Clason and Todd Waterman from H&R Block/Targett Ledgers won First Gross, with the Savings Bank of Walpole team of Steve Bianco, Gregg Tewksbury, Rick Wisell and Jason Kelley finishing First Net.
The Brattleboro Subaru Ford team of John Mundorf, Kevin Curtis, Ed Winseck and Manny Metaxes took Second Gross with the Brattleboro Savings & Loan team of Hugh Barber, Bill Crowley, George Roberge and Tammy Bischoff taking Second Net.
Allison Barber won the prize for the Women's Longest Drive. Tracy Sloan took Women's Closest to the Line with Kate McGinn winning the prize for Women's Closest to the Pin.
In the Men's Division, John Mundorf took the prize for Men's Longest Drive. Dave Anderson took Men's Closest to the Line with Jason Canaday winning Men's Closest to Pin.
Youth Services' Board member Rick Hashagen together with his grandson, Joshua Nordheim, ran a Putting Contest which raised $275 for the agency.  The winner of the Putting Contest was Guy Lindholm.
For the third year in a row, there was a silent auction and over 40 items and services were raffled thanks to the generosity of local businesses who has supported the fundraiser with gifts in kind.
A special feature was the 4th year Helicopter Golf Ball Drop thanks to the Renaud Bros, Inc. helicopter, piloted by Mike Renaud and assisted by his wife, Shirley. Individuals did not need to be part of the tournament to buy golf balls, priced at $100 each, nor be present at the drop to win. Buckets of golf balls were dropped from 20 feet on the fairway at the Brattleboro Country Club, with the winner of the $3000 cash prize being Lynn Herzog of Brattleboro, VT.  Bob Lyons of Newfane, VT, whose ball landed furthest from the pin won the 10-minute helicopter ride.
Pacesetters Sponsors are G.S. Precision; Brattleboro Ford Subaru; The Richards Group and TransCanada. Presenter Sponsors are People's United Bank. Sustaining Sponsors are Brattleboro Savings & Loan; Chroma Technology; Edward Jones Investments; H & R Block; River Valley Credit Union; Swiss Precision Turning; Twombly Wealth Management; and Vermont Country Deli. Patron Sponsors are BAST Co; Brattleboro Retreat; C.E. Bradley Laboratories; David Manning Inc.; Trust Company of Vermont; Rolls Royce Nuclear; Savings Bank of Walpole; and VSECU. Associate Sponsors are Cota & Cota Oil Co. Parks Place Financial Advisors; and W.W. Building Supply.
All proceeds from the tournament helps support Youth Services' programs.  Now celebrating its 44th year helping local families thrive, Youth Services transforms lives and inspires futures of more than 1500 local young people and families each year.
For more information or to get involved in Youth Services, call (802) 257-0361 or visit www.youthservicesinc.org