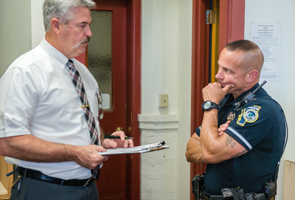 Eugene "Gene" Wrinn of Guilford, in local law enforcement for more than three decades, recently joined 18 other community members in serving on Youth Services' board of directors. Through more than a dozen programs ranging from restorative justice, to outreach, transitional living and case management, the nonprofit agency helps Windham County young people and families thrive.
Joining the force in 1987, Wrinn spend years in Brattleboro Police Department's patrol division before he moved to the Detective Division which he supervised. In 2007 he was appointed Chief of Police where he remained until retiring in 2014, receiving recognition for his work rebuilding positive relations with the community by requiring patrol officers to perform foot patrols as a regular part of their workday.
After leaving the police department, Wrinn worked out the Windham Country States Attorney Office developing the Counties Pre-Trial monitoring program which was eventually moved into Youth Services, and he followed.  The program screens for the presence of substance abuse or mental health issues to inform the criminal justice system about whether alternative paths at rehabilitation might be more effective than the traditional criminal justice system.
"It was rewarding to help people deal with the real underlying issues in their lives that were causing criminal behavior rather than focusing solely on punitive measures," Wrinn recalled.
In August 2015 Wrinn accepted a full time position as a Social Worker at the Vermont Department for Children and Families where he presently conducts investigations of reports of abuse and neglect incidents involving children. "I believe I will bring a different perspective to the conversations and decision making processes," Wrinn said.
Rachel Selsky, Youth Services Board President, said they are fortunate to have this former police chief, with 34 years in law enforcement, share his insights when they are developing strategic plans for the future of the organization. "Gene's deep understanding of the problems facing Windham County young people and families will be a tremendous asset to the Youth Services board," Selsky predicted.
To learn how you can get involved with Youth Services or to refer a youth for assistance, visit www.youthservicesinc.org or call 802-257-0361.