Make a contribution today to Big Brothers Big Sisters of Windham County! DONATE HERE!
Anonymous donors will match the first $3000 in contributions received by June 25. 2016!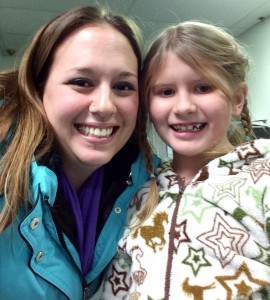 VIEW VIDEO! of  Big and Little Sarah and Kendra spending time together over several years.
If you ever see glitter falling from the sky or discover it in odd places, chances are Sarah and Kendra are crafting. Kendra was a six-year-old middle child when she was matched with her Big Sister, Sarah. Given her temper and struggles in school it was decided that she could benefit from a mentor.
Many of Sarah and Kendra's arts and crafts projects included a lot of glitter because of a mutual love for the sparkle and happiness that glitter brings to them both. A year into their match, Kendra's grades increased dramatically as her self-esteem, class participation and homework completion increased. Throughout their relationship, Sarah has helped Kendra develop coping skills and identify and avoid triggers for conflicts with her parents and twin siblings.
Sarah and Kendra don't spend all of their time talking about Kendra's home life or school. They have a lot of fun fishing, hiking and discovering the music of Taylor Swift together. Their story is on-going, with both getting to know each other's extended family. Kendra recently served as a junior bridesmaid in Sarah's wedding!
Life is not all glitter! But with your generous donation, more children living in difficult circumstances will  be matched with a Big Brother or Big Sister in Windham County.