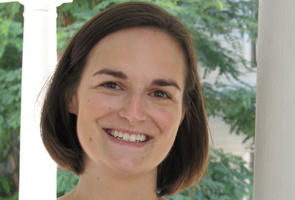 This July Rachel Selsky assumed the role of President of the Youth Services Board of Directors, taking the reins from Tom Nunziata whose two-year term has just ended.  Selsky has been on the agency's Board of Directors for the past four years in a number of leadership positions.
During her tenure on the Youth Services board to date, Selsky has held the position of Vice President and has served on the Strategic Planning, Executive, Rebranding, Public Relations and Legislative committees.  She also organizes the volunteers for Youth Services' Catamount Half-Marathon and 5K Race each October.  The Albany, NY native first became involved with Youth Services as a young professional in the year-long "Get on Board Fellowship Program" through Marlboro Graduate School.
With a background in urban and regional planning, Rachel Selsky has lived in West Brattleboro since 2010 with her husband Matt, a VT State Trooper, and their young daughter. She works remotely for Camoin Associates, a nationally recognized economic and community development consulting firm, serving as project manager on economic development strategic planning efforts for municipalities and companies.
"I'm looking forward to carrying on the legacy of strong leadership at Youth Services and supporting the great work that the agency does for the youth and families in our community," Selsky said.
Cathy Coonan of The Richards Group assumed the role of Vice-President of Youth Services' Board.
Youth Services was founded forty-four years ago to help young people and families in Windham County thrive. In that time they have helped countless numbers of young people discover their own path to adulthood to become a contributing member of our communities through such programs as Big Brothers Big Sisters, Court Diversion, Therapeutic Case Management and Transitional Living.
To learn how you can get involved, contact info@youthservicesinc.org or call (802) 257-0361.