Human rights in Brattleboro got a special nod on Sunday, Dec. 10, thanks to a Youth Services staff member, Justin Bibee.
"I figured if there ever was a time for serious reflection in our state and community, it's now," Justin Bibee, formerly a student at SIT Graduate Institute who brought the proposal to recognize Human Rights Day to the Select Board, told the Reformer.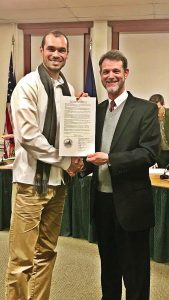 The Select Board received applause after members voted unanimously to approve the proclamation, which recognizes Dec. 10 as Human Rights Day. That day in 1948, the United Nations General Assembly adopted the Universal Declaration of Human Rights.
Bibee is finishing up his master's degree in peace building and conflict transformation, with plans to graduate in May. He is currently working as a case manager for homeless youth and youth at risk for homelessness at Youth Services. He grew up in Rhode Island but hopes to continue living in Windham County and work at Youth Services once he completes school.
The political divisiveness in the United States right now and his job inspired him to bring the proclamation to the board.
"Every day I feel I'm on the front line fighting for my clients' right to food, right to health, their human rights," he told the Reformer. "I'm just fighting for an adequate standard of living, right to non-discrimination. It kills me. The people I work with every day, they have anxiety and pessimism. And that usually prevails over optimism."
Bibee hopes the recognition of Human Rights Day locally will inspire activities and greater awareness around related issues through events and advocacy. The proclamation encourages citizens in town to take part in these things and "to strive to actualize a greater awareness of the importance of human rights." It also mentions the United Nations Association of Vermont, which is a new chapter Bibee just started after a recent trip to Washington, D.C.
Bibee had spent time in Tanzanian refugee camps from January to June before taking the job at Youth Services. His goal there was to connect refugees to formal financial institutions in their country.
This story by Chris Mays appeared Dec. 7, 2017 in the Brattleboro Reformer. Reach staff writer Chris Mays at cmays@reformer.com, at @CMaysBR on Twitter
and 802-254-2311, ext. 273.