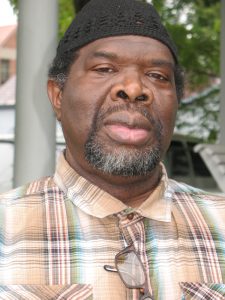 Youth Services has hired James Arana as Pretrial Services Coordinator for the organization.  This Pretrial Program was first started in 2015 after the passage of Act 195 by the Vermont legislature to address a judicial system overwhelmed by many cases best addressed outside of the courtroom.
According to Youth Services' Executive Director, Russell Bradbury-Carlin, the agency's Pretrial Program recognizes that many people entering the criminal justice system have underlying factors that lead to the criminal misconduct.
"It is a voluntary program designed to screen for the presence of substance abuse or mental health issues to inform the criminal justice system about whether alternative paths at rehabilitation may be more effective than the traditional criminal justice system," Bradbury-Carlin explained.
As Pretrial Services Coordinator, James Arana meets with individuals who choose to participate, and conducts a risk assessment and needs screening. He then shares an interpretive score of the results with the prosecutor's office and provides the individual with information about resources to help address areas of concern.
"The judge can use those results when determining bail and conditions of release, and the prosecutor can offer defendants the opportunity to participate in a Pre-charge Program that does not involve filing the case with the court," Arana explained.
Arana is committed to working with the justice system to help people identify the underlying issues in their lives that cause self-destructive and/or criminal behavior, rather than focusing solely on punitive measures. "This program is in alignment with Youth Services decades-long work in restorative justice, which focuses on repairing harm caused by crime and dealing with the risks and needs of the person who commit crimes," stated Arana.
Arana consults with numerous other organizations, regional, national, and international. He is Senior Consultant and Trainer for MERGE for Gender Equality, Inc., where he focuses internationally, on training men and women to work as allies in gender-based and family violence prevention. He is also Director of Youth Programing and Training for The Performance Project and the First Generation youth program in Western Massachusetts. He was co-founder of Men's Resources International, and served as associate director for ten years.
Arana worked as a prevention specialist and Program Director for Cooley Dickinson Hospital in Western Massachusetts. "James many years working directly with young adults struggling with anger and addiction issues give him great insight into the clients in our pre-trial program," explained Bradbury-Carlin. "We are thrilled to have such a seasoned social worker in our ranks."
For more information on Youth Services Restorative Justice programs or to support these efforts with a donation, visit youthservicesinc.org or call (802) 257-0361.