Youth Services will host their Annual Summer Camp Fair on Friday, April 5, on Gallery Walk Night from 5:30 p.m. – 7:30 p.m. at the River Garden in downtown Brattleboro.
Many summer camp providers will supply activities and entertainment for the children. The public is encouraged to take advantage of this great opportunity to arrange a fun-filled summer. There will also be youth entrepreneurs selling their creations. To entice the public to stop in, Youth Services is holding a free drawing for $100 credit toward a camp of the winner's choice and is giving out free balloons.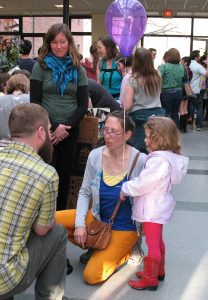 "Our Summer Camp Fair gives parents and grandparents the chance to ask questions and register their children for many of the camps listed in our Summer Resources Calendar in one convenient location," notes Russell Bradbury-Carlin, Youth Services' Executive Director.
Parents will be able to pick up information about and register their children for nearly two dozen summer camp programs at the Camp Fair. Organizations that have hosted booths in past years include: Bonnyvale Camp Waubanong; River Gallery School; Boys and Girls Club; Brattleboro School of Dance; Brattleboro Music Center; Cub Scouts; Retreat Farm; The Garland School; Education Center; Brattleboro Outing Club/Tennis; Brattleboro Community Television; Brattleboro Recreation & Parks Dept.; Farm Camp!; New England Center for Circus Arts; The Grammar School Summer Camp; Green Mountain Camp for Girls; Magical Earths Retreat; Meeting Waters YMCA; New England Youth Theatre; Vermont Wilderness School and more!
Copies of Youth Services' Summer Resources Calendar with information on these programs and many others will be available in the March 30 Reformer and at the fair.  You can also pick up a calendar at area locations, including Brattleboro Area Chamber of Commerce, Brooks Memorial Library, and Youth Services after March 30.
The fair is sponsored by Youth Services Pacesetters: The Richards Group, Brattleboro Subaru, and GS Precision. For more information, call Youth Services at (802) 257-0361 or visit www.YouthServicesInc.org, where you can download the listing.