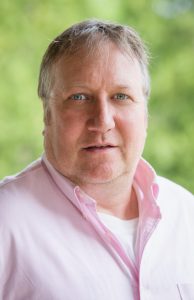 Rick Holloway, the Facilities and Equipment Manager of Chroma Technology since 2001, recently joined 18 other community members in serving on Youth Services' board of directors. Through nineteen programs ranging from restorative justice, to outreach, mentoring, transitional living and case management, the nonprofit agency helps Windham County young people and families thrive.
A self-described "high school drop-out with a GED and 20 years of addiction recovery," Holloway brings a unique and varied point of view to the Youth Services board, according to Rachel Selsky, board president, who said they are fortunate to have this youth advocate share his insights when they are developing strategic plans for the future of the organization. "Rick's deep understanding of the problems facing Windham County young people and families will be a tremendous asset to the board," Selsky predicted.
Holloway first became connected with the nonprofit by giving tours at Chroma to Youth Services' participants in its workforce development programs. These initiatives seek to expose adolescents to potential employers and careers in the community.
Holloway also mentored individual Youth Services' clients in an entry level position at Chroma dedicated to exposing local youth to job skills over a six-month period. According to Holloway, it was the first job for many of them, providing the skills and a track record which led many to other employment.
"Given my background and the changes I've made in my own life, I want to give back by helping youth find a way past the trials I faced," explained Holloway.
In addition to the Youth Services Board, Holloway currently serves on the Rockingham School Board and the WNESU Board. In the past Rick was involved with Youth Services as part of the Bellows Falls Advisory Board to Youth Services. He also had served on the Rockingham Conservation Commission, The Saxtons River Recreation Area and the Saxtons River Fire Station Building Committee.
Rick Holloway resides in Saxtons River with his wife Karin and son Ezra.
To learn how you can get involved with Youth Services or to refer a youth for assistance, visit wwwyouthservicesinc.org or call 802-257-0361.